Books
Ski the Great Potato: Idaho Ski Areas, Past and Present
by Margaret Fuller, Doug Fuller and Jerry Painter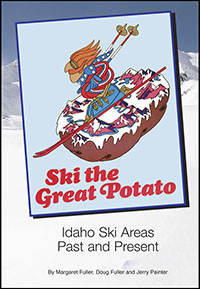 Ski the Great Potato: Idaho Ski Areas, Past and Present
See Idaho Magazine's March 2013 issue for an article about the book and some information about 3 ski areas covered in the book.
You'll find the histories of the 21 current Idaho ski areas and of the 72 historical or "lost" areas in this interesting new book. The book gives the basic facts about each area and how it started, and it includes little stories of some of the people who skied at each one. There are stories of stolen snow plows, an exploding stove, and a young woman who on a very cold night froze to the seat of a porta-pottie.
While researching the microfilms of Idaho newspapers, we found many hidden and forgotten stories of ski area startups in the weekly papers. It was almost always a community deal: meet in the basement of the drugstore on Tuesday night; we are forming a ski club, says the paper. A rancher, farmer, or mechanic promises to donate an engine for the rope tow. No rope for the tow? No problem, we'll hold a box lunch social, or sell ski club memberships that include free skiing. No land for a tow?
We can arrange for Forest Service land, or lease land from private owners, have it logged, and pay the lease with the proceeds. One ski area made a movie of cars and buses stuck in the mud and showed it around town to motivate public officials to pave the road.
In April 2014, Ski the Great Potato won a Skade Award from the International Skiing History Association for the best books on ski history published in 2013. In Skiing History magazine, reviewer Tom West wrote, "Ski the Great Potato opens with a fascinating account of the Eastport-Kingsgate ski jump that was located right on the Idaho-British Columbia border. The jump opened in 1928 and had an in-run in the United States, with the jumpers landing in Canada."
Many Idaho ski areas were successful only because of the major support and pure goodwill of community businessmen like Warren Brown and Jack Simplot. Most of the ski areas had the investment of several local businessmen who are not as well known as those two, but were vital in developing small ski areas such as Cottonwood Butte and Rotarun.
Our research uncovered the amazing determination of the few men and women who started Idaho's ski areas, especially the ones in remote areas. A 13-member Lions Club built a ski area from scratch, including buying a used Pomalift from a bigger ski area. When cement trucks couldn't drive up its steep hill to pour the foundations for the towers, they used a backhoe bucket and shovels to mix the cement by hand. Then they hauled an old schoolhouse 20 miles on dollies to the base of the lift for a lodge. Another area converted an old chicken coop. No ski lift or likely way to get one?
One early ski hill was run by boy scouts who used horse-drawn toboggans as ski lifts.
Excerpt from Ski the Great Potato: Idaho Ski Areas, Past and Present (click on the link): Quigley Gulch
$22.95, published by Trail Guide Books, ISBN 978-0-9911561-0-8
---
Trails of the Sawtooth and Boulder-White Cloud Mountains
by Margaret Fuller (updated and expanded 6th edition, 2017)
This new edition provides GPS coordinates for all trailheads. 143 trails for hiking, horseback riding and biking in and next to the Sawtooth National Recreation Area are described. Includes 3 new wilderness areas: White Cloud, Hemingway-Boulder, Jim McClure Jerry Peak.
"...this is the perfect reference and trail companion for those who explore this section of the Idaho backcountry." - Cecil Andrus
A few miles north of Sun Valley, Idaho, the Sawtooth Mountains rise thousands of feet above the headwaters of the Salmon River, like saws set on edge. To the east of the Sawtooths above wrinkled, wooded foothills the White Cloud Mountains soar in summits of vanilla ice cream.
Closer to Sun Valley, along the Big Wood River, swirl the pink and gray stripes of the Boulder Mountains. All three ranges are within the Sawtooth National Recreation Area. This book is a comprehensive guide to that area. Trailheads included in the Sawtooths are at and near Alturas, Pettit, Redfish and Stanley Lakes, and Grandjean, Graham and Atlanta. In the White Clouds, trails covered begin at Pole Creek, Fourth of July Creek, Fisher Creek, Rough Creek, Slate Creek and along the East Fork of the Salmon River. In the Boulders, some of the trailheads covered are the North Fork of the Big Wood River, Gladiator Creek, Three Cabins Creek and the Bowery Guard Station.
Excerpt from Trails of the Sawtooth and White Cloud Mountains (click on the link): Born Lakes Trail
$23.95, published by Trail Guide Books, ISBN 978-0-9911561-2-2
---
by Margaret Fuller and Jerry Painter (updated and expanded 3rd edition, 2010)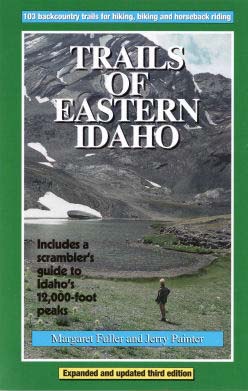 This guide of Eastern Idaho includes a scramblers guide to Idaho's 12,000-foot peaks, 103 trails and routes in 19 mountain ranges and on the Snake River Plain.
"This dream team has produced no fluff. They have meticulously done their research and present the plain and accurate facts of Eastern Idaho trail and peak hiking. Here and there, trail descriptions are supplemented with tidbits of natural and social history. You can see Margaret Fuller's influence here. Her longtime and passionate love affair with the Idaho outdoors has given her a sensitivity for natural history – a topic to which she has devoted two previous books. And you can also see Jerry Painter's touch in the carefully drawn maps and the crisp, no-nonsense approach to trail descriptions that comes naturally from his years working as a journalist and editor of a trails newsletter." – Ron Watters
This is a great resource for outdoor lovers looking for trails in eastern Idaho. Eastern Idaho is a landscape of variety. It includes black lava, grotesque granite towers, multicolored cliffs and unearthly turquoise water.
The book guides you to trips in 19 mountain ranges and among the lava flows of the Snake River Plain. Whether you are an Idaho visitor or a resident, you will find fun trails for day hiking, backpacking, mountain biking, horseback riding, and peak bagging. A guide for reaching the tops of Idaho's nine 12,000-foot peaks is included.
Excerpt from Trails of the Eastern Idaho (click on the link): Webber Lakes
$18.95, published by Trail Guide Books, ISBN 978-0-9664233-9-6
---
by Margaret Fuller (updated and expanded 3rd edition, 2006)
This guidebook of hikes in Hells Canyon, the Seven Devils, Owyhees, Smokies, Pioneers, around McCall and Lowman and around Boise includes 107 trails, including 13 new trails in this edition.
"Margaret Fuller has done it again. Her latest guide book to Idaho's hiking trails is a 'must' for outdoor enthusiasts who desire an accurate description of an area. It is also appropriate for people who need suggestions of where they might visit." – Cecil Andrus
In southwestern Idaho, landscapes vary from sagebrush deserts cleft with canyons to Douglas fir or lodgepole forests, mountain meadows and glacial cirques. In its mountains, aquamarine lakes contrast with gray and black peaks streaked with white, copper, and rose. Except for the Hells Canyon Wilderness, the hikes are in non-wilderness areas.
There are hikes in the Payette, Boise, Sawtooth, and Salmon-Challis forests, and in the lower Snake River, Shoshone and Vale districts of the Bureau of Land Management. Also included are a few state parks like the Bruneau Sand Dunes and Malad Gorge. Trails under other management include the Boise Greenbelt and the 85.7-mile-long Weiser River Trail.
Excerpt from Trails of Western Idaho (click on the link): Halverson Lakes
$17.95, published by Trail Guide Books, ISBN 0-9664233-3-X (no copies left; being revised)
---
Trails of the Frank Church - River of No Return Wilderness by Margaret Fuller
(updated and expanded 2nd edition, 2006)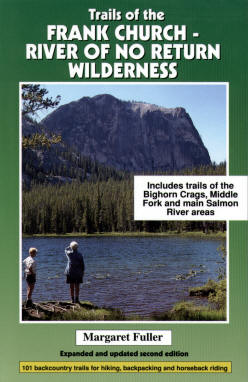 This 2.3 million acre Idaho wilderness is carved by the Salmon River into a maze of deep canyons and rugged peaks. 101 trails are described in this edition which includes 19 new trailheads.
"The great contribution of this book is not only to make the almost inaccessible accessible to the outdoor person, but also to permit the armchair enjoyment of someone who will explore this vast area only through Margaret's words and eyes." – Bethine Church
The Salmon River and its tributaries have carved the Frank Church - River of No Return Wilderness into a maze of deep canyons and isolated peaks. From any high point a gigantic relief map of ridges extends to distant blue crags. The crags and ridges hide cobalt blue lakes and bubbling hot springs.
In most sections, the footprints you see will be those of elk and deer, not humans.
Both popular areas like the Bighorn Crags near Challis and remote areas like the Big Creek drainage near Yellow Pine are included in the book. Several of the roads to trailheads, such as the road to Sleeping Deer and the Nez Perce Trail Road are adventures in themselves.
Excerpt from Trails of the Frank Church - River of no Return Wilderness (click on the link): Sleeping Deer Lookout
$16.95, published by Trail Guide Books, ISBN 0-9664233-2-1
---
All four hiking guidebooks above give the round trip distance, elevation gained, elevation lost, highest point, topographic maps needed, time, difficulty, and directions for reaching the trailhead. They include history and natural history of the areas, how to avoid damaging the environment, and information on safety. Each trail write-up also describes the beautiful scenery that what will be seen along the trip.
---
by Jerry Painter and Matt TeNgaio (updated and expanded 3rd edition, 2016)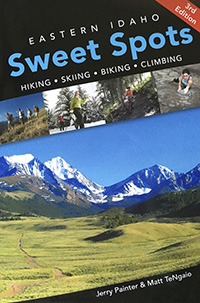 This guide to rock climbing, mountain biking, cross-country skiing, and hiking trails in eastern Idaho is an excellent companion to "Trails of Eastern Idaho" by Margaret Fuller and Jerry Painter. Hundreds of easily accessible trails and climbing routes in Eastern Idaho are detailed in this book.
Jerry is the author of other trail guides: Great Trails for Family Hiking in the Tetons, Hiking and Biking Trails in the Idaho Falls Area, Hiking and Biking Near Idaho Falls, Vol. II, 10 Peaks in 10 Weeks, (all now out of print) and with Matt TeNgaio, Eastern Idaho Sweet Spots: Hiking, Biking, Skiing, and Climbing. He writes a weekly outdoor column for the Idaho Falls Post Register (a daily newspaper). He and his wife, Julie, live in Idaho Falls. They have five children and three grandchildren.
$20.95, published by Trail Guide Books, ISBN 978-0-9911561-1-5
---
by Margaret Fuller and Betty Derig (3rd printing, 2007)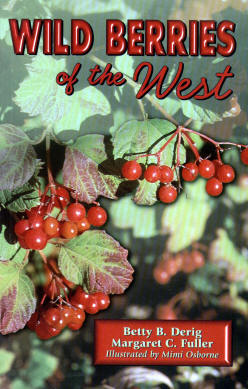 This field guide identifies the most common berries of the West for hikers and foragers. Over 150 fruits and berries are described with color photographs, edibility, historical uses. Recipes, maps, tips about locating plants, gardening and more, are included.
This book includes detailed plant descriptions and tells whether or not each berry is delicious, edible, insipid or poisonous. The more than 50 recipes are old time ones the authors gathered from relatives, friends and neighbors. The book decribes how Native Americans and early settlers used the berries and their shrubs or trees. The guide also tells how to grow wild berries in the garden. 235 pages, 2 maps, 43 drawings, 185 color photographs.
Excerpt from Wild Berries of the West (click on the link): Blueberry Molasses Cake Recipe
$16.00, published by Mountain Press Publishing Company , ISBN 978-0-9664233-6-5
---
The Weiser River Trail: Idaho's Longest Rail Trail
by Margaret Fuller and Anita VanGrunsven (updated and expanded 3rd edition, 2015)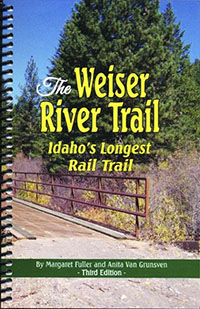 Detailed directions and GPS coordinates for traveling Idaho's longest rail trail are provided in this spiral bound guide with laminated pages. Idaho's longest rail trail is for hikers, mountain bikers, horseback riders and winds through Idaho's beautiful Weiser River valley for 85.7 miles from Weiser to just south of New Meadows. The guide includes topographic maps, color photographs.
Excerpt from The Weiser River Trail: Idaho's Longest Rail Trail (click on the link): Grizzly Creek To Goodrich
$20.00, published by Friends of the Weiser River Trail , ISBN 978-1-4951-4680-0