Ski the Great Potato: Idaho Ski Areas, Past and Present
Winner of the Skade Award from the International Ski History Association, April 3, 2014
Ski the Great Potato: Idaho Ski Areas, Past and Present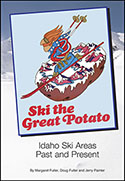 Trail Guide Books is a small independent publishing house and book distributor located in Weiser, Idaho. The publisher specializes in outdoor guidebooks to the Intermountain West, particularly hiking Idaho trails. Well-known Idaho author and hiker, Margaret Fuller, is Trail Guide Books' primary author. Her award-winning books provide hiking, biking, and horseback riding enthusiasts with the information needed to explore Idaho's spectacular mountains.
The other main author is Jerry Painter, who is an outdoor columnist for the Idaho Falls Post Register and has written several hiking guidebooks.
Each hiking guidebook is kept up to date with new editions. The latest one, the Trails of the Sawtooth and Boulder-White Cloud Mountains(6th edition) contains GPS coordinates for all trailheads. All Trail Guide Books' guidebooks give the trip distance, elevation gained, elevation lost, highest point, topographic maps needed, time, difficulty, and directions for reaching the trailhead. They also include history and natural history of the areas, ways to avoid damaging the environment, and information on safety. Each trail write-up begins by describing the beautiful scenery that will be seen on the trip.
Comments about Margaret Fuller's Hiking Guides:
"Idaho's grand lady of the mountains has come out with the 5th edition of Trails of the Sawtooth and White Cloud Mountains." -- Pete Zimowsky, "She Wrote the Book on Hiking the Sawtooths", The Idaho Statesman, May, 2011.
"This book covers so many practical things that anyone can use, from the beginning hiker to the experienced person, but its incredible worth is in the detailed descriptions of all of this diverse and complex mountain area." Bethine Church, (Foreword: Trails of the Frank Church-River of No Return Wilderness)